Mike Femal - Head Instructor (dojo cho)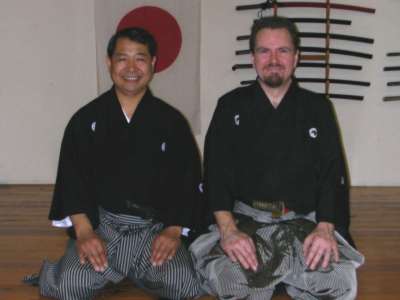 Femal Sensei has been teaching Toyama Ryu in St. Petersburg, Florida since 2001. He has won 12 gold medals in competitions in both the United States and Japan and was the overall champion in the 2001 and 2003 Orlando Batto Jutsu Tai Kai.
Mike Femal was one of the founding members of the US Federation of Batto Do. He was awarded the rank of Yondan (4th degree black belt), and became a certified instructor for that organization. He served as the first Membership Director and later as the first Shinpan Bucho (Director of Judges) in that organization. He passed the Zen Nihon Batto Do Renmei Shinpan certification test and formalized the initial Taikai judging criteria for the US Federation of Batto Do.
Femal Sensei is now dedicated to the study of Japanese swordsmanship as the dojo-cho of the independent Konjaku Kioi Toyama Ryu Dojo. He is focused on the continued improvement of himself and his students. They keep true to their path by continuing to visit the Seizankai Dojo of Machida Japan as guests of Hataya Sensei.
Dojo-cho of the independent Konjaku Kioi Toyama Ryu Dojo in St Petersburg Florida
First Shinpan Bucho (director of judges) of the US Federation of Batto Do
Formalized initial Taikai judging criteria for the US Federation of Batto Do
Passed the Shinpan (judge) certification test in the Zen Nihon Batto Do Renmei
One of the first certified instructors of the US Federation of Batto Do
Awarded Yondan (4th degree black belt) US Federation of Batto Do
First Membership Director of the US Federation of Batto Do
Awarded Sandan (3rd degree black belt) in the Seizankai Dojo of Machida Japan
Awarded Sandan (3rd degree black belt) in the Zen Nihon Batto Do Renmei
Awarded Shodan Kodachi (1st degree black belt) in the Zen Nihon Goshindo Renmei
2003 Orlando Batto Jutsu Tai Kai
Taikai Champion (Winner of Howard Clark Tanto)
1st Place Kumitachi (with Doug Young)
1st Place Dodan Cutting
2nd Place Yondan and Above Cutting
2nd Place Wakizashi Cutting
3rd Place Yondan and Above Kata
3rd Place Team Cutting (With Sang Kim and Doug Young)
2002 Orlando Batto Jutsu Tai Kai
1st Place Kumitachi (with Tom Smyth)
1st Place Team Cutting (With Sang Kim and Doug Young)
3rd Place Yondan and Above Cutting
3rd Place Wakizashi Cutting
2001 Orlando Batto Jutsu Tai Kai
Taikai Champion (Winner of Bamboo Katana)
1st Place Nidan/Sandan Kata
1st Place Nidan/Sandan Cutting
1st Place Dodan Cutting
1st Place Team Cutting (With John Schmidt and Robert Steele)
3rd Place Wakizashi Cutting
2000 All Japan Battoudo Tai Kai in Machida Japan
1st Place Nidan/Sandan Cutting
1st Place Team Cutting (With Bob Elder and Bob Lampp)
2000 Orlando Batto Jutsu Tai Kai
1st Place Wakizashi Cutting
1st Place Kumitachi (with Tom Smyth)
2nd Place Nidan/Sandan Kata